Spring is here !  Blue skies, flowers budding, birds chirping—and another (semi) lockdown in Ile-de-France where we live in Châtenay-Malabry, a Parisian suburb 10km south of the City of Lights.
Three words come to mind when reflecting upon what lessons Covid has taught me : awareness, resilience and patience.
How It Started.
The first full scale 'shelter in place' lockdown was enforced from March to May 2020.  I had to embrace patience as a working single mother in creating the right balanced rhythm in our daily routine of…
… helping my 7 year old boy with 3 ½ hours of schoolwork per day;
… physical exercise (thank goodness we have a yard and long driveway to where he can freely run, ride his bike and play soccer!) ;
… and of course shifting my own work entrepreneurial habits into a new routine of working from home.
The first lockdown in France was a complete shutdown of businesses classified as non-essential; leaving only supermarkets, banks and pharmacies open, for the most part.
If we left our homes, we had to have a government-issued permission slip, stating the where we were going and how long we were out— and were only allowed one hour per day for a grocery shop, doctor's appointment or other critical outing.
We could go out for walks within a 1km radius from home and it was quite frightening to see no cars on the road, hear no noise and yet at the same time, we saw more neighbors outside on their daily walk around the block. Their sight triggered an unexpected, deep sense of human solidarity in a world otherwise ruled by social distancing.
We all silently regret the cancellation of large scale outdoor events such as…
… watching fireworks at the Eiffel Tower at the New Year's Eve or ;
… celebrating the national Bastille Day holiday on July 14th ;
… plus concerts, weddings and family celebrations.
We are all waiting impatiently to return to museums and partake in cultural events. Yes indeed, Cinemas, gyms, and museums have been closed as well since fall 2020.
Politics, productivity and resiliency.
Let me give more context into what makes this unprecedented crisis so unique for us here in France.
After months of contradictory statements by the French government (as recently as December 2020 it made a promise to re-open all bars and restaurants on January 20th 2021 which was not honored, followed by a statement in mid-February that they would reopen in mid-may which will not happen either) the general morale has grown to one of "confinement fatigue" : depression and frustration as the pandemic is still raging and new variants are being discovered.
As of this writing this article, only 1% of the French population has received their vaccine which is disappointing. Tensions are high as to the lack of organization, the lack of supply and the concerns over the AstraZeneca vaccine's efficiency.
All of this has led to a slow vaccine roll-out, even the Health Minister is not predicting a date for exactly when the French population will reach the threshold of 'herd immunity', of 60% of the population.
For the next 4 weeks, through April 2021, we are allowed to move about within a 10 km radius of our home yet avoid going from one region to the next.
Working remotely is still highly encouraged and in France, workers have proven to be 22% more productive while working from home (in the local loafers lovingly called here charentaises)!
More productive… ? Personally I'm exhausted! It's a lot more work than I ever could have imagined:
… balancing our daily needs,
… making even more meals,
… overseeing homework,
… tackling housework,
and quite frankly, staying sane. (!)
Indeed, As a solopreneur, my time is already split between my mom role and a variety of professional assignments :
teaching Intercultural Studies and Sustainable Business for the American Business School of Paris and two other higher education establishments
Acting Board Member of the Wells International Foundation (also known as WIF) – WIF has hosted in February 2021 an evening of Intergenerational Mentoring with the American University of Paris.
and more volunteer projects
The decision of the French government to transform all in-person trainings into virtual classes, has created a new challenge in my schedule: that of hosting multiple courses online during the week via visioconference software such as Zoom or Microsoft Teams.
Since Schools require that teachers give weekly assignments, this virtual environment has slowly grown to become the space where all conversations with students happen. Though shared through a digital medium, the exchanges have not lost in authenticity and depth. Ideas and insights were carried by students over to the modern student hangout places: WhatsApp group conversation.
I had not anticipated that the shift to remote teaching would bring me closer to the students in my classrooms. I'm humbled to discover that in the middle of chaos, lied an opportunity for me to grow, personally and as a teacher.
In 2020, teaching has taken a new meaning for me: to reach each and every student and be there to help them cope and develop resiliency during these trying times and beyond.
Resiliency is a key factor here whether it is helping students have alternative plans or at least being able to think differently about their (uncertain) future is a challenge.
Embracing patience.
Here is how I personally practice patience every day.
To start, fortunately, my son and I live near the Parc de Sceaux and can visit the gardens to recharge in the nature when staying home proves to be stressful !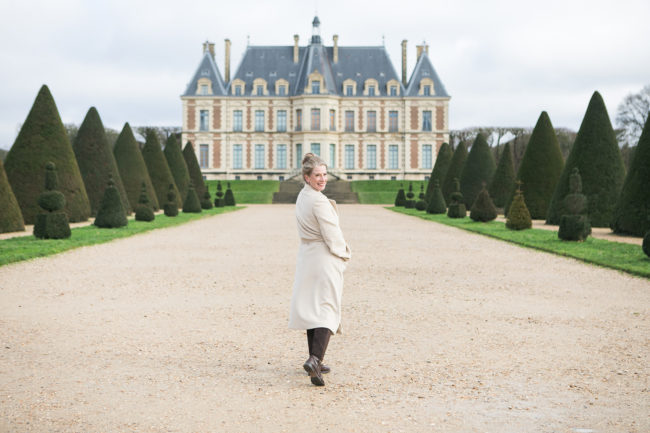 Then in our community in Châtenay, primary and secondary schools have been open full-time for the children since September 2021 and I am grateful for all the support of our community to keep our children safe.
The Mayor has publicly declared that now Masking up is required for children aged 6 years and older, so in our town we are confident that viral spread has been curbed, though not eliminated.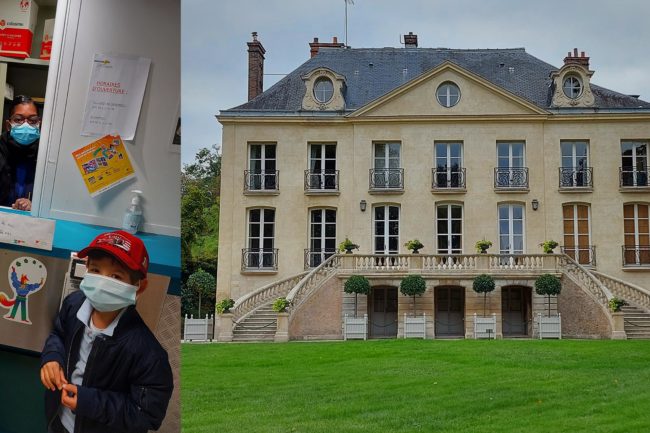 My Son says Thank you postal workers ! // The Arboretum of Châtenay-Malabry
Life goes on despite the unusual circumstances in our town (and country) with mandatory mask wearing and the biggest change I would say, is more respect for others and paying attention to our habits.
There is now increased appreciation for things we had always taken for granted: Discussions with neighbors, friends and family focus as well as helping each other, checking in on one another and reminding each other of the blessings we have for those who are healthy and have a roof over their heads.
What we are looking forward to the most is travel and being around family and friends and hopefully giving les bises, the traditional French cheek kisses greeting.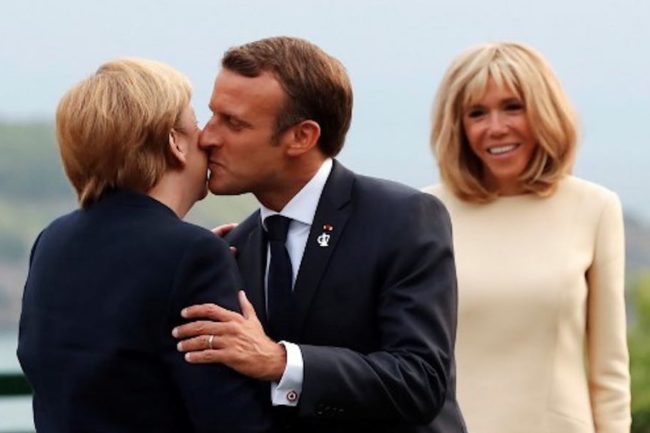 Crédits : François Mori/AFP
Now more than ever, it is a propos to quote my mother's acronym which she has used in every letter, card and email over the last 27 years :
SHAS ! 
(Stay healthy and safe ! )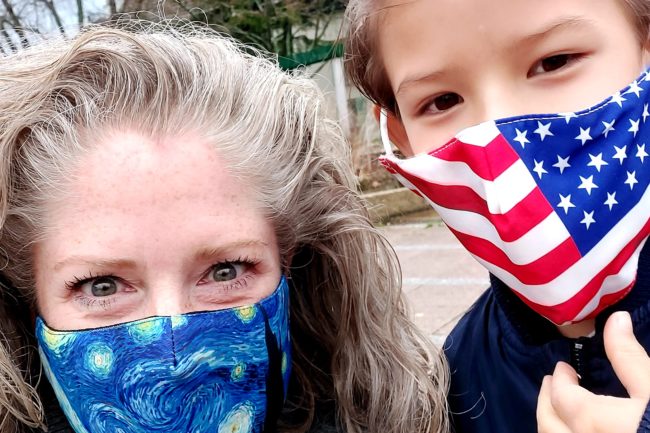 Masked mother and son powering through life in France during the Covid19 pandemic.