Why not Croatia after COVID 19 ?
 While the current state of the Covid-19 pandemic prevents us from travelling physically, it does not hold us back, however, in our desire to visit and discover new tourist destinations when the situation returns to normal.
If some people want to rediscover civilization at all costs by visiting major cities and capitals around the world such as New York, Sydney, Shanghai or even Berlin, others have had a bit of a breakdown in this health crisis and now want to spend their free time outdoors in the nature, whether it's by the sea, in the deep countryside, or in the mountains.
Different options are possible and different destinations offer them. However, it is rare to find a place that combines all these characteristics within the same territory. You may have to go far away, or to pay a lot to find this balance. At least that's what you are thinking right now and that is exactly what most of the people are believing today at the present time. But have you thought of Croatia ? Yeah, this small country of seven letters may seem, at first glance, like a poor country stuck between all the republics of the former Yugoslavia, however there are many other facets to discover out there for different types of travelers :
A country for culture enthusiasts
Indeed, the authentic heritage of the country is a very pleasant attraction especially since six sites are listed by UNESCO. Whether you come to see the roman and bizantine remains in the city of Split, visit some art museums in the capital, Zagreb (Museum of Naive Art, Mimara Museum,…) or admire the beauty of the architecture of the town of Dubrovnick considered as « the pearl of the Adriatic » you will be served and go away with your mouth completely gaped.
A country for great sportsmen and sportswomen
Now, if you have more of a sports profile, you will be delighted to hear that numerous activities are to be done out there : hiking in the different national parks of the territory (in the Plitvice Lakes National Park, the Krka National Park, the Kornati Archipelago National Park, Brijuni National Park or even in the Risnjak National Park, which is for me a real « coup de cœur »), cycling on beautiful and picturesque trails, mountaineering on the majestic mountains of the region and if you are more adept to nautic sports you can still practice some sailing on the Adriatic sea.
A country for nature lovers and ecology believers
The lovers of fauna and flora will also be pleased with numerous beaches and abundant protected natural reserves throughout the entire country such as the Natural Park of Kopacki Rit which houses a great refuge for birds and freshwater fish or even the Natural Park Lonjsko Polje, a kingdom of cygogns and herds of wild horses.
And if it is the underwater species that makes your heart beat, you can admire them while diving around the different Croatian coral islands.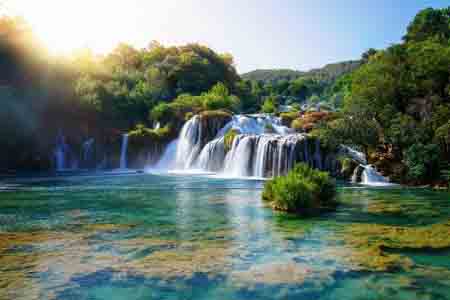 Krka Waterfalls on the Krka river in Krka national park in Croatia
Beautiful beach near Brela town, Dalmatia, Croatia. Makarska Riviera
A country for solo travelers
Now if you prefer to go solo you obviously can because this destination is safe and quiet. The population will welcome you properly and you will make beautiful authentic encounters while discovering the local customs (language, textile art,…) as in the small villages of: Pucisca, Primosten, Korcula or Rastoke.
A country for avid partygoers
Whether you are a student, a young party-goer or simply a fan of events, Croatia will also be an ideal destination for you to let go after this tense period :
Rather Saint Tropez and Monaco? You will find this chic and glamorous atmosphere in Hvar, a top meeting place of the international and Croatian jet-set.
Rather Ibiza or Cuncun? It is Novalja that you must go. Cocktail, decadence and voluptuousness await you with three different bars on the beach from 4 :00 pm to 6 :00 am.
A country for the gourmet food lovers
Gourmets and lovers of local products will also enjoy their trip to Croatia. With a simple and tasty cuisine including fish and seafood such as : salata od hobotnice (a cold salad consisting of octopus in small pieces, potatoes, tomatoes, onions, capers and olive oil), crni rižoto (a risotto of cuttlefish inks) or even lignje na žaru (some grilled calamari pieces). And if you are more into meat you can always try some : pršut (a smoked ham), čevapi u lepinji (a grilled meat sandwich with fresh Kajmak cheese, onions and ajvar, a puree of peppers and tomatoes).
There's food for all tastes and it will be impossible for you to leave without having tasted these typical products!

A country for the spiritual ones
And finally, if you are more into relaxation, in a process of self-discovery, body balance and personal refocusing, you will also have the opportunity to find a new heaven of peace in the country.
You can can make a pilgrimage  and visit the shrine of Marija Bistrican a place frequented by christian pilgrims for over 300 years or even participate to a Yoga retreat in Zadar.
I believe you are seduced now by Croatia, right ? At the same time it would be difficult not to fall under the spell of such a varied territory with so many activities and places to visit.
However, before you definitively fall for Croatia, two more key issues need to be raised : travel time and budget.
Well, again, you can say that the crescent-shaped country hits hard ! It takes, indeed, only 2h15 of flight to make a Paris-Dubrovnik and 2h05 of flight for a Paris-Zagreb. And if you want to take the train, one day will be needed to reach the destination from the french capital. So no need to prepare books and books, movies and movies to keep you busy, you will already arrive.
And as for the budget, it's affordable ! Indeed, according to a research carried out by the blog « Où-et-Quand.net », the cost of living in Croatia in 2021 is 23% less than in France particularly in terms of leisure, accommodation and catering.
So why not discover this sunny place still too unknown to the public and make the most of it while there is still time ?
Marianne Vandamme '22
Hospitality & Luxury Management
CMH Academy, Paris
Sources : (useful sites to look at before going on a trip to Croatia)
https://www.ou-et-quand.net/partir/quand/europe/croatie/
https://www.encroatie.com/gastronomie/plats-typiques/ >>>  This one is a very interesting website about food and gastronomy to look at before going to Croatia!